Last Friday we commemorated International Holocaust Remembrance Day. January 27th was chosen to memorialize International Holocaust Remembrance Day because it was the day that Auschwitz-Birkenau was liberated by the Soviet Forces. Students watched and discussed a video that was created by the US Holocaust Memorial Museum.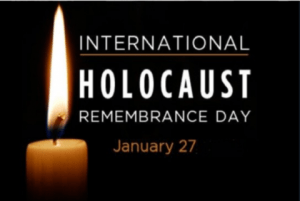 We focused on the following questions:
Why is it important for us to remember the Holocaust today? 

How can we ensure that this history is not forgotten?
After our group discussion, students had the ability to dive further and examine various sources related to the Holocaust.
Option 1: Podcast
Echoes and Reflections Holocaust Podcasts
Option 2: Personal Narratives
Identification Cards | Holocaust Encyclopedia
Option 3: Compare and Contrast
Some Were Neighbors: Collaboration and Complicity in the Holocaust 
Who are the Righteous Among the Nations? | Animated Concepts | Yad Vashem 
Righteous Among the Nations from Monastir
Students will be reflecting upon their learning experiences on their blogfolios. Be sure to check out their posts next week.