Homework Expectations, Grading Policy and Late Assignments
For Dr. Avi Marcovitz Grades  6,7,8
•Homework and Class Assignments
Questions for homework will be assigned in order to prepare the student for class discussion. Parents are encouraged to work with their children studying together.  We will be using both Judaic websites like sefaria.org, todaysisrael.com, jpost.com, israel21c.org as well as actual texts.  Students will be learning the skills of how to be able to find Jewish sources independently as well as understanding how to use a Siddur wherever they decide to daven (pray).
The overall goal for Judaic Classes is to make Menches (responsible citizens).
Students will weekly learn about Israel by researching relevant Israeli media.
Homework and Class Assignment Late Policy:
1 Day Late: Drop 1 Letter Grade
2 Days Late: Drop 2 Letter Grades
3 Days Late: Drop 3 Letter Grades
Past 3 Days: A 0 but must still complete the assignment. As long as the student is not late for any additional assignments, the initial late assignment will not count.
(I understand there are always extenuating circumstances and I will work with each student individually. What is important is communications and letting me know if an assignment is going to be late).
Rubric for Individual Projects and Class Assignments: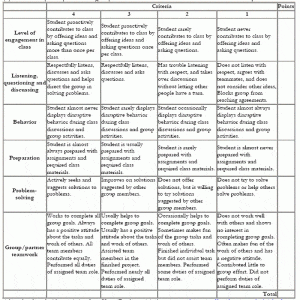 Rubric for Group Projects: